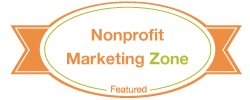 In the world of social media,
the
most important thing you can offer is community and I'm very pleased to announce that I've become part of a new nonprofit marketing and fundraising community with the goal of creating a place for nonprofits to find news and creative thinking to help support their missions. I'm glad to be part of the 
Nonprofit Marketing Zone
, the brainchild of 
Kivi Leroux Miller
, 
Katya Andresen
, 
Nancy Schwartz
 and 
Tony Karrer.
Some of the other blogs that are part of the network are:
To see how it works, visit the 
Nonprofit Marketing Zone
 and click a keyword, such as 
Social Media.
You'll see headlines for the latest nonprofit marketing news and posts on ideas and best practices to use in your nonprofit's marketing strategy.
Tony Karrer is behind the technology that makes this hub happen and he'll stay close. He believes the technology behind the Nonprofit Marketing Zone will prove extremely valuable and he's committed to improving the site to increase that value. Please let him know directly how you think the site is helping you or how you'd like it to help.

Beyond providing a place for reading information and getting ideas, I hope that the Nonprofit Marketing Zone will become a springboard for collaborations and continuing conversations on how those of us who are supporters and active advocates of our small nonprofits can use social media (and other avenues) to even better serve the communities for whom those nonprofits were created. Let's all commit to sharing our resources for the benefit of all.