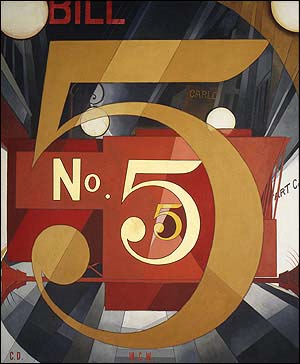 Figure 5 in Gold by Charles Demuth
All of your communications are persuasive or should be. Regardless of whether they come from your small nonprofit as an email, a printed memo or as part of your social media effort, each one of them should have a goal in mind and a call to action. In the previous two posts, we looked at how you can integrate education, persuasion and a call to action in your communications. In this post, we talk about how to make your communications more effective by asking yourself five questions before you mail it off or hit the SEND button - I would argue that you should ask yourself these questions long before you even reach either of those points.
Where Do These Questions Come From?
They come from Julia Classen at the Nonprofit Quarterly, from the middle of an article on the
cyclical nature of nonprofit boards
. It's a great article - I had never taken the opportunity to consider how boards, like everything else, have their ups and downs, or even phases, in how they interact with the nonprofits they serve, and this article breaks down those phases into the behaviors to be expected or recognized.
The five questions are from the "Corporate" phase and they are:
1. What does the board need to know?
2. What does the board want to know?
3. What is my purpose in communicating this information to the board?
4. How can I get the board's best thinking to assist the organization?
5. What board decision, action, or outcome do I wish to achieve?
Personally, I feel you could substitute "donors" or "partners" for the word "board" or any other groups you may work with and by answering these questions, give yourself a good outline to follow for any communication you're putting together. Obviously, some SM platforms (Tweet, Tweet) aren't going to give you a lot of room to
maneuver
in, but consider those an opportunity to practice being more
concise
and flexing your creativity muscle to see how much oomph you get can out of a few words (that's a technical term, in case you were wondering).
And, as a last word, I would suggest that questions 4 and 5 might end up at cross-purposes to each other if you are heavily invested in the outcome you want to see.
Social Media Tool of the Week: Supporter Wall
This site (in beta) is like a Facebook fan pic collection, except that the fans pay money to have their faces (or logos) on the wall. When I first looked at this, I thought, "Not another site to send supporters to." But then, I could see tying your Supporter Wall to your Facebook Page and that might work out quite nicely. The donors get to select the place they want their picture to appear, which can lead to some creative and eye-catching positioning. If you've been looking for a slightly different and social way of encouraging donations, this is an idea you might consider, especially if you don't have the online space or the software developers to do it on your own.