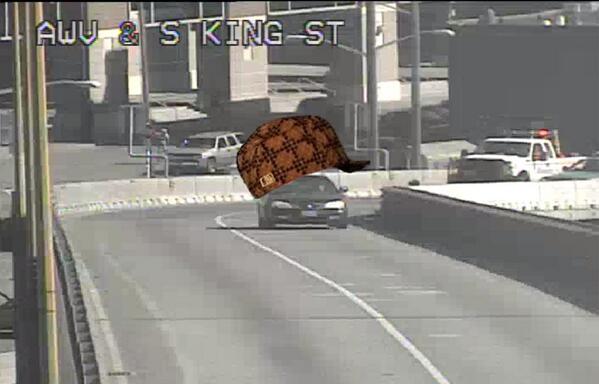 Via Vocativ.com
In past posts, I've warned about the dangers of thinking youth was a prerequisite for handling your small nonprofit's social media accounts.
Here's an object lesson in what can happen when you put an intern in charge of your Twitter account without supervision or - apparently - even occasional oversight.
This
case-in-point
is brought to you by the Seattle Department of Transportation, whose intern might have gone a little off the track, but at least remained safe for work.
Changing Times
After a lot of thinking, I've decided not to continue posting on a (mostly) weekly basis. I've read a lot of articles lately on how social media is changing (
Scott Monty
left Ford and
Shel Israel
thinks it's because
marketing has taken over
), but I really feel that there isn't anything new I can say about social media and small nonprofits. Once you've said:
be real (authentic)
start conversations
follow-up on what people are saying
don't make it about you - make it about them
...you've pretty much said it all in terms of content. Then there is talking about ROI, metrics, how to use a particular tool, or more of the technical end of things, and that isn't what I started this blog to write about.
When this blog started, I wanted to help people involved in helping their communities find and use the freely-available, very long-term, awareness campaign that is social media. Most particularly I was looking to serve those similar in age to myself who found this new technological world rather confusing. Social media was kind of a wild west show, with shoot-outs happening all over the place and it was difficult for many try to get started in social media and then stay on top of the changes while (nearly) single-handedly running an NGO. I wanted to lend a hand by sharing my enthusiasm for this new way to reach the public.
People like
Beth Kanter
and
Pamela Grow
do some aspects of NGO much better than I ever could, and once you know how to extract lessons from business-oriented blogs like
Social Media Examiner
, you can learn from dozens of similar experts, including those from specific industries like
recruiting
. So I guess I feel like I've written myself out of a job.
Social media isn't the next new thing anymore - late night television makes Twitter jokes and daytime soap characters always seem to have a smartphone in their hands these days. Younger people, for whom social media is a way of life, are already in the workforce and some of them are approaching their 30th year. I think you can probably trust them with your Pinterest account.
This blog won't go away. Some people come across some of the older posts and seem to find them useful. And I will likely find the occasional thing of interest I want to share with you. I just don't want to start repeating myself.
Not that I will be idle - I volunteer for two NGOs and have several books waiting to be written. In addition, I'll be starting a blog focused on Emergency Medical Services in Santa Cruz County, which I hope will help county EMS communicate better with the public they serve.
As always, let me know your thoughts in the comments section.